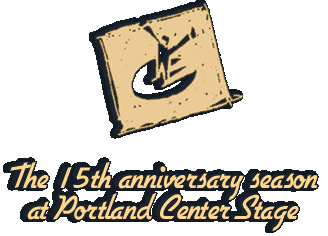 *rights pending for Portland Center Stage

September 24 - October 20

An often overlooked play that contains some of Shakespeare's finest comic work, especially the bickering romance between the two wits Beatrice and Benedick.

October 29 - November 17

Maybe not Shephard's best play but certainly his most popular, this 1980 comedy pits a successful brother against a down-and-out brother in a show-down over the family sod and the American dream.  Portland had an excellent run of Shepard productions through the 80's and it should be good to have him back.  Harry Godiniz of Chicago's Goodman Theatre directs.

The first is a stage adaptation of Sedaris' hilarious accounting of his dark adventures as a department store elf.  The second is a tender reminiscence of the relationship between a Southern boy and his dotty spinster cousin, revolving around their plans to shower the town with fruitcakes.  Capote's novella is one of the loveliest of Chritsmas tales.

January 14 - February 9, 2003

Albee's masterpiece about George and Martha and the kids and the booze is both searing drama and, when it's done right, enormously funny.  Nancy Keystone, who wrote and directed last season's adaptation of "Antigone" and directs this season's "Dirty Blonde" directs.

February 18 - March 9, 2003

Like this season's "Flesh and Blood," the 24-year-old Moses' satire began as part of Center Stage's Just Add Water/West play development festival.  Here's what the company promises:  story lines from Brecht, Socrates, Galileo and a contemporary English professor; style nods to Monty Python, Tom Stoppard, and Tony Kushner.

March 25 - April 13, 2003

Long and witty, in love with the sheer bravado of a good argument, Shaw's comedy is the ultimate intellectual battle of wills between men and women, whom Shaw wasn't quite willing to conceded belonged to the same species.



Interpreted Performance dates to be announced at a later date.

Interpreters:  Dot Hearn and Deborah Perry

Audio Describer:  Gail Webb

Interpreters:  Jean A. Miller and Judith M. Webb

Audio Describer:  Julie Gebron

Interpreters:  Ryan Cowley and Deborah Perry

Audio Describer:  Hammond Guthrie

Interpreters:  Todd Agan and Jean A. Miller

Audio Describer:  Valory Lawrence

Interpreters:  Ryan Cowley and Dot Hearn

Audio Describer:  Diane Englert

Interpreters:  Julie Gebron and Judith M. Webb

Audio Describer:  Bruce Moody